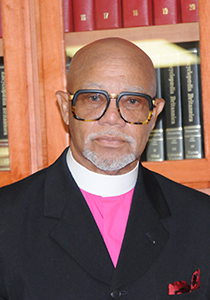 The honorable Bishop Richard E. Young's faithfulness to the Lord has blessed him tremendously and helped him to make great strides in the ministry of the gospel of Jesus Christ. He is a dynamic speaker and his winning personality has made him well known all over the country. He is a visionary and has the church at heart in all he sets out to do.
Son of Suffragan Bishop Horace and Mildred Young
The husband of Arlene M. Smith-Young for over 50 years
Father of two daughters: Teresa and Jacquelyn, and one son: Richard, Jr.
Grandfather of four: Whitney, Jeffrey, Brooke and Charlton
1962 – Called to preach and served 13 years as assistant pastor to the late Bishop William C. Abney
1975 – National Evangelist for the P.A.W., Inc.
1979 – Elected Senior Pastor of Zion Temple in Steubenville, Ohio, USA
1985 – Elected Senior Pastor of The Chosen Vessel Cathedral in Fort Worth, Texas, USA
1986 – Elected General Secretary of the Pentecostal Assemblies of the World, Inc.
1996 – Elevated to office of Bishop and assigned to the 24th Episcopal District – Carolina State Council
2005 – Honored for distinguished service to the ministerial profession in the International Directory of Distinguished Leadership – 2nd Edition
2010 – Inducted into the Dr. Martin Luther King Board of Preachers at Morehouse College in Atlanta, Georgia, USA
2010 Annual Convention in Minneapolis, Minnesota appointed as Diocesan Bishop of the 13th Episcopal District – Texas State Council
2010 Elected 1st Assistant Presiding Bishop of the Pentecostal Assemblies of the World, Inc.
To God be the glory, for all the wonderful things He has done.