[vc_row][vc_column][vc_column_text]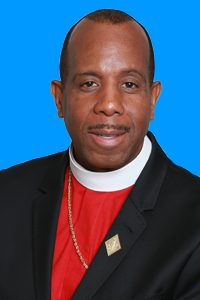 The honorable former Presiding Bishop Charles H. Ellis III is the Senior Pastor of Greater Grace Temple in Detroit, Michigan. He pastors nearly 8,000 and is known as a leader "with a heart for people." In 2002, Bishop Ellis and the Greater Grace Temple Family celebrated the Grand Opening of their new 36 million dollar worship facility. Their vision had come to pass! This state of the art masterpiece includes a 4,000 seat auditorium, and an elegant banquet hall and conference center. Under Bishop Ellis' leadership Greater Grace Temple now has over 300 ministries including the following, which extend beyond its religious mandate:
Over 100 Housing Units for seniors and families
2 Charter Schools (Grades K- 8)
Montessori Day Care Center
Print Shop
Television & Recording Studios
Travel Agency
Funeral Home
These ministries positively impact the Detroit community where he is a respected clergyman and civic leader. Here are some of his honors and board appointments:
Board member of the Detroit Zoological Society
Board member of the Vanguard / Detroit Medical Center Health System Hospital
Founder and President of the Greater Grace Temple Non-profit Housing Corporation
In July 2010, the 1.3 million-member Pentecostal Assemblies of the World (P.A.W.) elected Bishop Ellis to the office of Presiding Bishop, making him the 10th elected person to the highest position in the world's oldest Apostolic organization. Bishop Ellis presides over the Diocese of South Carolina in which he oversees nearly 45 churches. Bishop Ellis brings the message of God's love to a potential 50 million viewers across the nation on "The Word Network" and other TV and radio outlets.
Bishop Ellis is a Business Administration graduate of Wayne State University with a major in Accounting. He also holds an honorary doctorate from Aenon Bible College. He is married to the lovely Crisette Michelle, and is the proud father of two children: Kiera, and Charles IV.
[/vc_column_text][/vc_column][/vc_row]