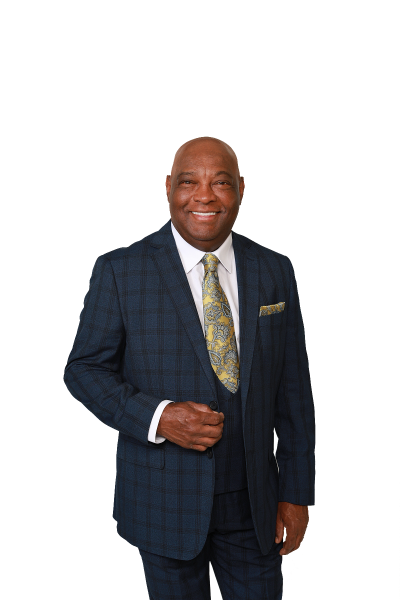 BISHOP MARK C. TOLBERT
1st Assistant Presiding Bishop
Mark C. Tolbert, Teacher, Preacher, Entrepreneur. Mark was born the 5th child to Lee A. and Lorene Tolbert. You could never keep him still he was the life of the party. In his early years his entrepreneurial spirit shined through the midst of an era of poverty and despair. At age 9 Mark started a lawn care service and had 3 employees. His initial goal was to purchase the brand of tennis shoes he desired but his entrepreneurial thrust opened up his understanding of commerce and business how to benefit from living in a capitalistic society. From then on everything he thought about had to have business acumen.
Mark Tolbert is a native of Kansas City, Missouri, Graduate of Central High School, attended Penn Valley Community College and received his DD from Western Baptist Bible College. In 1989, Bishop Tolbert became Senior Pastor of Victorious Life Church, 3400 Paseo. He is the former President of the Concerned Clergy Coalition of Greater Kansas City (an ecumenical group comprising of 18 Denominations and over 300 Pastors), President of Sparrow Community Development Corporation, former Board Member of the Friends of Sacred Structures, Former president of Lee A. Tolbert Charter School Board, Former Diocesan Bishop of the Canadian District Council and currently Diocesan Bishop of the Heart of America Council of Churches of the Pentecostal Assemblies of the World.
Bishop Tolbert married Emelda Tolbert in 1978. There were two children born into this marriage, Mark, Jr. (Gone Home to Glory) and Britton Elliot.
The church congregation has grown considerably each year. Each week our services can be seen on television. We also carry the gospel to our community, our city and the world each week via live stream at www.vlckc.com.
The church campus sits on approximately 10 acres. We recently built a 40,000 square foot Educational & development center where the Lee A. Tolbert Community Academy Charter School leases. The second phase of the Lee A. Tolbert Community Center has been completed and provides space for our youth ministry as well as the recreational facility for the school and community.
The Lee A. Tolbert Community Academy Charter School was founded by Bishop Mark Tolbert in 1999. The first year opened with 187 students; now the student body is over 500. The Tolbert Charter Academies School District is accredited and has a waiting list of students to be enrolled.
Our ministry presently has a food pantry where we feed the hungry and working poor. We host "Feed the Multitude", a program where we feed the lonely, homeless, and many others each year. During this program we feed and clothe hundreds of families and individuals.
Our Christian Education Electives are creating new excitement in the community as we move toward skills-based teaching. With our Computer Learning Centers, we have managed to help hundreds of youth and adults find help and direction for their futures. In 1938 Christ Temple Church was founded; In 2006 the church voted on a name change. Our church pulled together to make a decision and the church name was officially changed to Victorious Life Church. The name change shows that the congregants are willing to make preparations to minister to the next generation.
Victorious Life Church has over 75 active ministries with Christian Education and the Christian Education Elective classes being at the forefront. One of our major ministries is the drama ministry. Over the last 20 years we have performed illustrated sermons and the musical productions to thousands, the response to our productions has been phenomenal.
The Lee A Tolbert Charter School was founded in 1999. One of the areas Bishop has always focused on is the digital divide. His most recent endeavor is to help crush the digital divide. Through Tolbert Tutoring Inc. a 501c3 organizations and his many partners in the corporate and entrepreneurial world Bishop Tolbert has launched a program to give scholarship certificates to qualifying students to receive a 7 inch tablet (included is one free year of internet access) free of charge. In 2017 Bishop Tolbert was appointed to the KCMO Police Commission Board by the Governor of Missouri. In 2018 Bishop Tolbert was nominated and elected to be the 1st Assistant Presiding Bishop of the Pentecostal Assemblies of the World. In his many areas of church and community leadership Bishop Tolbert is preparing leaders to lead courageously and vivaciously into the future. Leaders of tomorrow must be trained and prepared today.